CRYSTALSFIRST ESTABLISHES PARTNERSHIP WITH AKTTYVA THERAPEUTICS TO SUPPORT AI-POWERED DRUG DISCOVERY PROGRAMS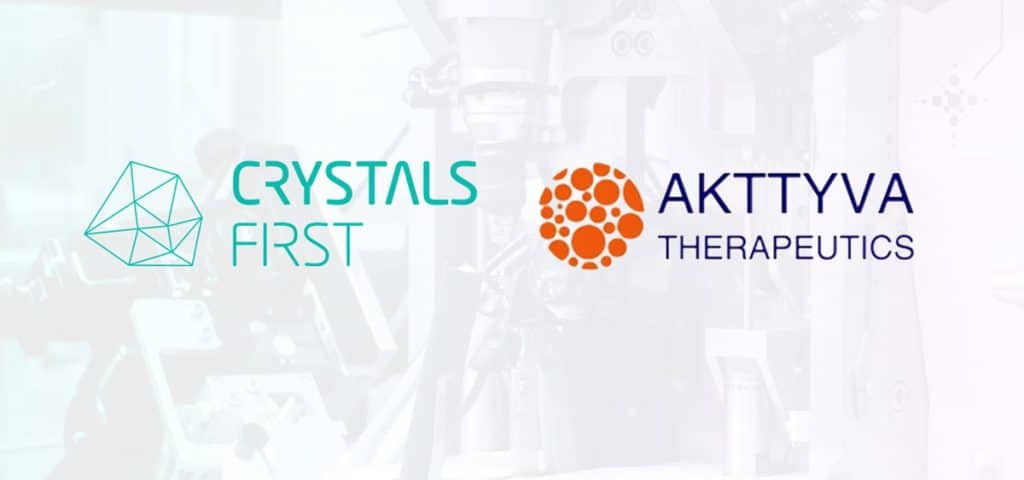 Hamburg, Germany February 23, 2023 — CrystalsFirst, a leading provider of small-molecule drug discovery services, announced today the signing of a drug discovery service agreement with
Akttyva Therapeutics. Under the terms of the agreement, CrystalsFirst will apply its proprietary high-performance X-ray crystallography and soaking technology platform to provide protein production and structural biology services on novel protein targets selected by Akttyva's in building its pipeline. Financial details of the agreement were not disclosed.
"CrystalsFirst's innovative solutions to structural biology and fragment-based drug discovery are valuable components for ramping up our proprietary drug discovery efforts against a selected portfolio of innovative targets," said Katya Tsaioun, PhD, Co-founder and Board member of Akttyva". Akttyva's first target is a small molecule activator of MAP kinase MK2 and CrystalsFirst technology will allow it to strengthen its suite of proprietary assays and build a pipeline of therapeutics to treat conditions associated with vascular leak. Dr. Tsaioun continued, "this partnership will enable Akttyva to expand its pipeline to other novel targets involved in vascular leakage. We look forward to partnering with CrystalsFirst to jump-start Akttyva's proprietary drug development efforts as we continue to build a robust and explainable AI-assisted platform for drug discovery against unexplored targets underlying unmet needs of patients."
"We are excited to be selected by Akttyva, a discovery stage biotech company focused on unlocking the full therapeutic potential of the human kinome to develop new treatments," said Dr. Serghei Glinca, Chief Executive Officer of CrystalsFirst. We look forward to applying our high-quality protein production expertise and SmartSoak® technology to rapidly deliver high-quality hits and leads as part of Akttyva's structure-first approach to discovering and developing small-molecule modulators of protein targets."
CrystalsFirst's unique technology platform enables customers and collaboration partners rapid access to high-fidelity chemical matter across different drug targets and binding modalities. The company offers its high-performance screening, protein, and structural biology platform to pharmaceutical and biotechnology companies for small molecule drug discovery. Within the broad fields of structure-based drug discovery and fragment-based lead generation, the application of CrystalsFirst's proprietary technology SmartSoak® provides rapid structural insights into numerous target interaction modes with atomic resolution. The company's fast access to the highest resolution structural data and molecular design strategies support medicinal chemistry in the development of candidate molecules in a time- and cost-efficient way.
ABOUT AKTTYVA THERAPEUTICS, INC.
Akttyva Therapeutics is a drug-discovery company with a proprietary National Science Foundation award-winning AI-assisted Discovery Engine which utilizes a human-in-the-loop 360 approach (AIDE-360), fast-docking scoring and unique databases of novel molecules. Its first program is focused on treating vascular leakage in Acute Respiratory Distress Syndrome (ARDS) by direct activation of MK2 MAP kinase and is in late preclinical stage.